Mar 30, 2018
2,157
Vouchers
Gender

Male
Pronouns

He/Him
Posting Status

Daily
Name:
Quie Rukt'In
Age:
130 (appears roughly 25)
Birthday:
January 10
Gender:
Female
Species:
Ice Dragon
Category:
Citizen
Work:
Security for the Rukt'In Clan, Liaison to agents of the Veil and related government agencies
Appearance Description:
Source is Juvia Lockser from Fairytail (first pic is a render done by
Namyle
on DeviantArt to remove the background from the image on a trading card. Second one is from the show)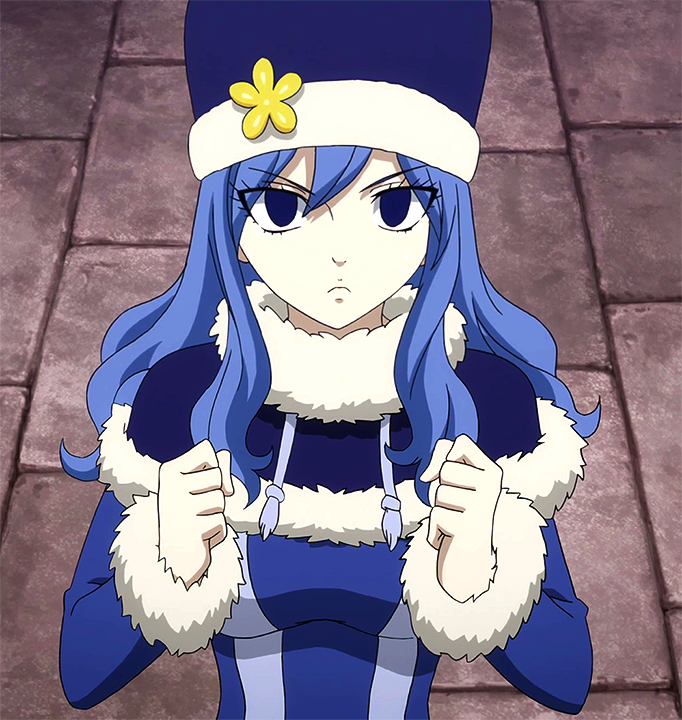 Quie has deep, dark blue eyes that look innocent and friendly enough when she is happy. When she is angry those same dark blue eyes seem to turn cold and heartless- like sinking into the depths of a frigid sea. Her hair is a lighter blue and drapes down to about her mid back. Although her hair is well maintained she refuses to cut it shorter or put it up. Quie's skin is quite pale, similar to the rest of her alpine family. Quie is reasonably tall, standing at 5'11", and her thin figure belies her great draconic strength
While she dressed in heavier furs and generally cozy clothing at home, bringing them with her just in case of course, she has turned to lighter clothing in the warmer Manta Carlos climate. She is just as happy in a light colored dress as she is in pants or her native fur-based clothes. Unfortunately much of her duties require business dress so she reluctantly wears pant suits as well so as not to make the family look bad.
While traveling in the narrow reality for any reason she dyes her hair brown to attract less attention. She hates to do this but it is necessary for protecting their secrecy.
Like most of her siblings Quie's dragon form could be considered cute by many. She has layers of thick fur to help survive in the cold climate they are from. However her claws and teeth are quite formidable and when she starts to call forth spears of icy upon her body she is downright terrifying to behold. She has many horns sprouting from her head but rather than being sharp they are dull and stronger than usual. They are for protecting her head and neck rather than for attacking. Her wings are thick and protective in the front and then spread out to long feathers to ensure proper flight while being insulated against the cold. Quie is all white except for the deep, dark blue eyes that lie protected by the bony ridges where her horns start to sprout from her head. She is a little shorter than Fweiu, standing at about 47' tall and 80' long (chest to tail tip).
Personality Description:
Quie likes to consider herself to be a protector; of her family, of children, and of their way of life. Those close to her know her warm and cuddly side and she would go to extremes to keep a child from being harmed. Do something to threaten her, her family or any charges of hers however and you will suffer her ferocious wrath.
She is not smart or diplomatic enough to be the leader of their family and she is well aware of it. Quie is loyal and gets things done and that is what she is proud of. Occasionally she challenges authority as any self-respecting dragon would, but in her case it is more to keep her siblings on their toes than to actually attempt to take over. She is capable of planning things out and thinking things through but she absolutely prefers to be out actually doing something than sitting behind a desk. Its a bit of a flaw and probably bothers her family sometimes.
Abilities:

Active:
Spears of Ice- In both forms Quie can create very strong and sharp spears of ice from her body. The ice is stronger than normal ice but someone with a dragon's strength (or a strong human, when she is in human form) can break them. She is able to break them off, in the same way someone else might, and use the parts as very crude weapons. In human form the maximum length of these spears is about a foot while in dragon form they can be as long as 10'. They are not magical weapons and they melt at the normal rate of ice. The more spears she creates on her body, the harder it is to move without stabbing herself. She cannot fly with any of the ice still on her body as it weighs her down, throws her off balance and risks injuring her wings.
Dragon Form and Flight- As a dragon Quie has a huge dragon form that she can shift in and out of at will. Her clothing shifts with her though not any additional bags or large items. Her teeth and claws are strong and sharp enough to shatter bone and rip into stone or thick ice

Her dragon form is very large and as such cannot fit into buildings that aren't designed for such large creatures.
Her wings are very large and allow her to fly for long distances, but she requires a large open area to take off from or else she risks snagging a wing and possibly injuring it.
Quie can also shift parts of her human form into dragon features, but not the other way around. She can give herself claws or teeth as sharp and durable as the ones in her dragon form, wings strong enough to fly with, a layer of protective dragon scales and fur along her body, and superhuman strength. She does not grow in size and her shifted parts are instead sized appropriately for her human form. Shifting scales and fur in gives her similar cold and damage resistances as she has in dragon form.
Weakened Cold Breath- Due to an illness at a young age Quie is unable to properly use her breath weapon. Instead of a torrent of icy cold air capable of great effect, she can only produce a cloud of cool, misty vapor in a 5 ft cone in human form or 30' when in dragon form. It is not thick enough to obscure vision and does not hurt anyone. Instead it just provides a moderate cooling effect on the air around. Mostly she uses this to soothe herself and others who prefer a colder climate. Using it more than once per hour though causes severe coughing fits that prevent her from doing any strenuous activity or focusing.
Passive:
Long Lifespan and Healing- As with the other ice dragons in her family, Quie will likely live for 40,000 years or more unless she is killed, though that is not easy to do. Towards the end of her life she will be forced to stay in dragon form and slowly turn into ice. The Rukt'In ice dragons heal quite well from injuries.

In dragon form lost limbs regrow in about a day and a half, while lesser injuries heal within hours. In human form limbs take between 1-2 months to regrow and lesser injuries heal over the course of a day. Significant blood loss can cause her to lose consciousness as the body heals enough to replace it.
Injuries caused by fire take twice as long to heal
Draconic Conditioning- Quie has superhuman sight, hearing and smell in both forms. Quie in human form is as strong and quick as an olympic level athlete. In dragon form her thick hide, scales and fur resist against bludgeoning and stabbing damage by twice the normal rate. Due to her size in dragon form she is able to throw cars and do significant damage to buildings. Damage that would kill a human outright would also kill her in human form.
Cold Resistant- In dragon form Quie is highly resistant, but not immune, to damage from even the coldest weather and attacks. This includes ice-based attacks meant to freeze the target. However piercing and bludgeoning damage from ice is not reduced by this resistance. In human form she takes half damage from cold/ice based attacks and is twice as resistant to cold weather as a normal human. The cold from her own ice spears power does not harm her but they can slash or stab her as normal.
Weaknesses:
Copper Allergy- For an unknown reason Quie has developed an allergy to copper. Contact with copper causes rashes, welts and even nausea. She has to be careful about limiting the amount of water she drinks from copper pipes, food she eats that was cooked or served in copper cookware and copper wiring or jewelry she touches. Even the limited copper in today's pennies is enough to cause a reaction. As a precaution she also limits the number of legumes, seafood, nuts, cocoa, avocados, black pepper, raisins, molasses, whole grains and cauliflower in her diet as they are known for having higher copper content. While not immediately hazardous, if enough is consumed she will go into anaphylactic shock and could die.
Damaged vocal cords- The same illness that damaged her ability to use her breath weapon also left a lasting effect on her vocal cords. She is unable to produce the proper volume to yell, scream or roar. She naturally healed enough that her voice doesn't sound different and she can talk loudly but anything above that is physically impossible for her
Depressant sensitivity- Along with the other effects from her childhood illness Quie is affected by depressants at twice the normal rate. She gets drunk twice as fast and sedatives can be dangerous or even life-threatening if the dosage isn't carefully determined
Fire Weakness- In addition to fire-based injuries taking twice as long to heal, any fire-based attacks do twice as much damage as well and tend to spread damage easier due to all the fur.
Human Form Rest- Quie has a human form just as most other dragons do, but she is required to spend at least an entire day in her dragon form once every month. Waiting any longer without changing form causes dizziness and headaches and the increasing inability to focus on even the simplest tasks. Not even magical assistance can extend this limit.
Resources:
Quie works for and receives pay and support from her clan. While on the island she is living in a house with the rest of the Rukt'Ins. Their clan is wealthy but she would never take advantage of that.
Biography:
Quie was the fourth of six dragon children born to the Rukt'In clan hidden away in their secluded home in the Swiss Alps. Her father was the chief of their clan and her mother was his mate. Her mother won her place though hard-fought combat with the other contenders.
When Quie was very little she was struck by a powerful but unknown illness that mostly affected her nervous system. She survived and eventually healed most of the damage, though it was quite close. She has several lingering permanent effects that even the best healers have been unable to fix
Quie was just as vicious and a bully as most of her siblings were, something she felt she needed to do to become stronger. Later she came to see it as a way of helping her siblings get stronger too, though she does regret some of the hurtful things she did and said.
Still Quie never actually wanted to lead their family and was not bothered when first Shul, however briefly, and then Fweiu assumed the position of Chief. While Quie does test her sister's authority from time to time and flex herself against her other siblings she is in fact fiercely loyal. She has visited her father only once since he went to his resting place. She denies any rumors that she actually cried while there.
Quie was always willing to help protect their clan and was frequently part of the teams trying to keep outsiders from discovering their home. When the clan set out to create a colony in Antarctica Quie was all too happy to go there and help fight. She witnessed firsthand the deaths of other ice dragons during the failing colony attempt. While she didn't fully agree with Fweiu at first about integrating with the human world, she ultimately did return to help with the plans, leaving behind the dragons in Antarctica who refused to move forward.
When Hwuun married Ohri, Quie was one of those opposed to the relationship. She was afraid that the wyvern would bring too much recklessness to their community, but when Fweiu allowed it to happen she begrudgingly accepted it. She did not however treat their eventual child, Vivra, with any malice at all. She was family, and a child, and deserving of protection too.
Quie focused all her attention on protecting their community. She wasn't content to just escort outsiders when they came to visit, making sure they didn't pose a threat, and through them she learned more of the outside world. As part of her job she learned the languages most common to the visitors to their home (German, French, Italian, and English)
Eventually she wanted to learn how to more actively protect her family and their community. Through talks with Fweiu it was decided that it would be helpful to try to learn how the veil operates and how they could use that information for their own community. She would take a position as their liaison between their community and the agents of the veil and related agencies, developing working relationships with them and fostering cooperation. As part of her duties Quie is ready to help advise or support Fweiu in any deals or negotiations but her main focus is on safety and security. Whether she was supposed to or not Quie planned to also keep an eye on the multiple family members already there. Her desire was to be there to help keep them safe rather than be a spy however.
Ever since Fweiu went to the island Quie had been working quite hard to make sure everything was set up at home to keep things running safely while they go back and forth between the Alps and Manta Carlos.
Additional Information:
Always
has her phone on her to keep updated and in case of emergencies. She is effectively always on call, no matter what.
Speaks German, English, French and Italian
In a relationship with Silver Nivalle
Last edited: