Mar 30, 2018
2,611
Stars
Gender

Male
Pronouns

He/Him
Posting Status

Daily
Name:
Aura Fynn
Age:
18
Birthday:
October 18
Gender:
Gender-fluid, Identifies mainly as Female
Species:
Werewolf/Eldritch hybrid
Category:
Student
Class:
college
Grade:
1st year
Major: undecided
Job:
Waitress at Club Orpheus
Appearance Description:
Aura is a thin, shorter girl about 5'3" tall. Though her actual hair color and the color of her one normal eye on the left side of her face do change they are normally in the range of blues or violets. Her hair reaches down to her chin and usually is purposely draped down over the right half of her face. This hides two bright yellow eyes (aligned vertically) and several smaller tendrils that inhabit that area of her face. Her teeth have prominent wolf-like fangs. In male form she appears much the same, with still the thin girlish frame. Her wardrobe is very limited currently and includes only a few simple dresses and skirts along with jeans and shirts. Nothing remotely flashy or expensive.
In her eldritch form Aura becomes a huge 10' tall hulking beast of many tendrils and multiple randomly arranged and disfigured limbs and heads. Quite often they are at odd angles and appear deformed.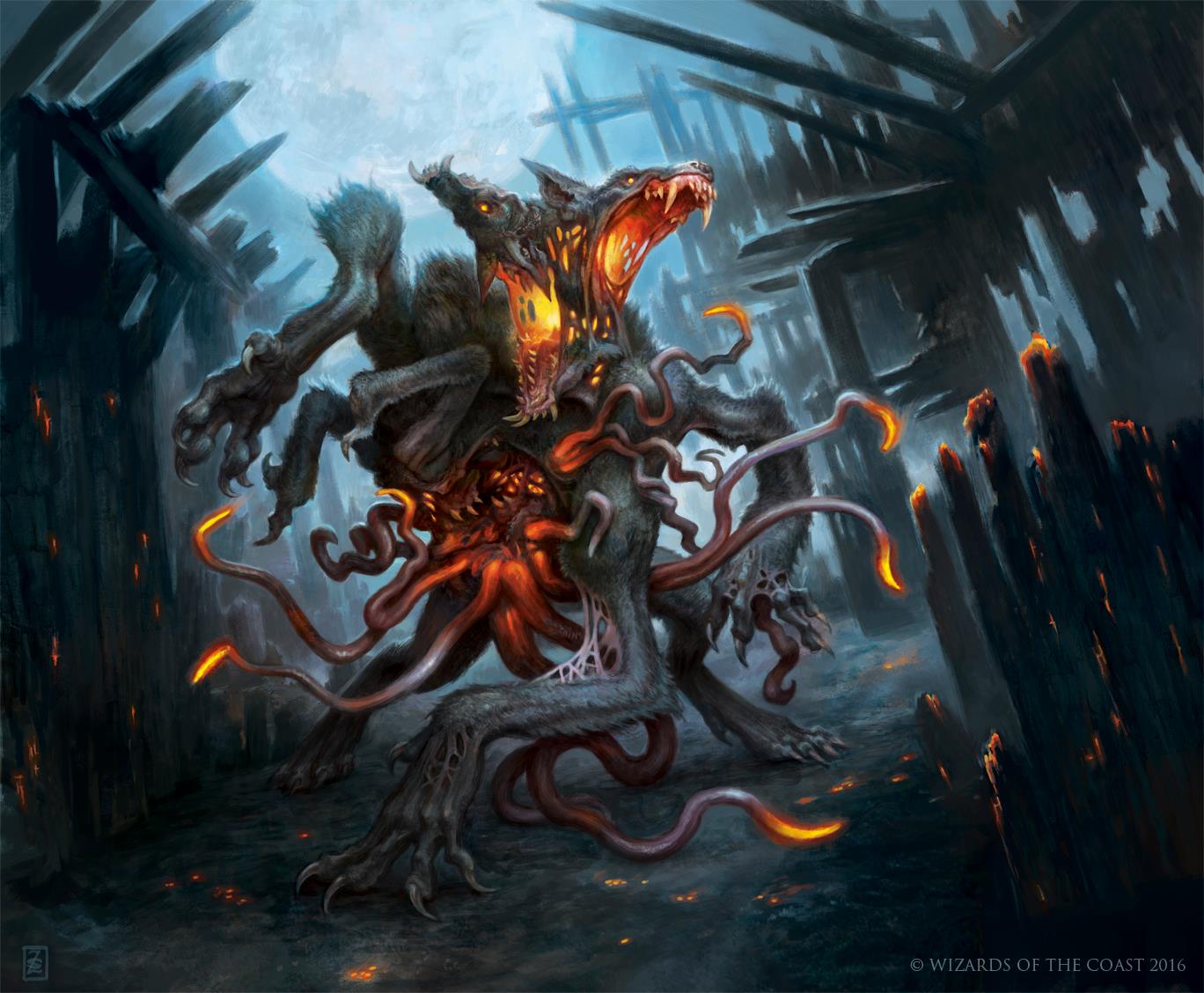 Art from the Erupting Dreadwolf card in Magic: The Gathering
Personality Description:
Years spent on the Islets and coming to terms with what she did while she was not under control has been very sobering for her. Aura is quiet and passive and very uncomfortable in the spotlight. She is extremely respectful to authority figures, almost uncomfortably so, though she is able to relax that for other types of people. Backed into a corner too far though and she will eventually snap and lash out. There's only so much she can take. She is notably very much embarrassed with the appearance of her eldritch features.
Abilities:
Active Abilities:
Eldritch/Werewolf form shifting- at will she can shift into the monstrous 10' tall hulking form of a two-headed wolf beast with a molten core and a number of legs and tendrils. In this form they are strong enough to easily toss a car and can break or claw through stone. They can grow any number of functional limbs, tendrils or other body parts but none can be longer than 10'. A molten core of magma takes over for normal digestion and incinerates meat/flesh or melts rocks swallowed. A bite causes both damage from the teeth and damage from the heat of the molten core. Additionally tiny portions of the magma can be forced out into the tips of her tendrils to make them red hot. Rather than being able to manipulate the magma she is actually using her body to squeeze and push it around. She cannot make the magma actually leave her body.
Body shifting- She can use a limited form of her eldritch shape shifting in human form. She can grow additional functional mouths, eyes, sprout up to 6 tendrils (maximum length of 10' and these are in addition to the small, weak ones always on her face) or even change herself to be physically male. She can change her human eye or hair color but cannot shift the color of her nonhuman eyes. The two non-human eyes and small tendrils always present on the right side of her face cannot be shifted away and neither can the wolf fangs she has in human form.
Spidersilk Attire- Special spider silk woven into a tank top and shorts that can be worn under other clothing. The material is immune to fire and 10x stronger than steel.
Passive Abilities:
Functionally Immortal- Will stop physically aging at some point in adulthood.
Rapid regeneration- minor cuts heal in seconds, bones heal in minutes and missing appendages regrow in a day. As long as she has a heart, a brain or an eye remaining intact she can regenerate from death. This takes between 3 days and a week depending on how much needs to be regrown or repaired. She reforms from the largest section that included one of the key organs. Her regeneration factor heals enough to make her effectively immune to diseases and resistant to toxins and drugs.
Eldritch mind- abilities that would involve reading her mind or contacting her mentally return only incomprehensible growling and static. She can tell when someone triggers this or when another eldritch is within 30' but not who it is.
immune to damage from heat, fire and lava/magma and the effects of non-magical cold temperatures
Hybrid physique- She's has normal strength, speed, and reflexes for a very athletic human her age. However the eldritch tendrils she can form are stronger, being able to lift around 300lbs each. Her eldritch eyes can see in the dark. In either form she has senses equivalent to a wolf and her body is always unnaturally warm to the touch.
Weaknesses:
Silver- Wounds made by silvered weapons heal at half the usual rate.
Full moon- On full moons she is forced into her eldritch/werewolf form at dusk until dawn and is unable to control herself. She must be either locked up in suitable confinement, go to the forbidden forest, or keep her nullification bracelet on. She feels anxious and restless in the days leading up to the full moon and it declines at the same rate afterwards. Wearing the nullification bracelet on the full moon blocks her shifting but the missed shift amplifies this anxiety effect to a level where she is barely functional until the full moon passes.
Special Diet- Can only eat raw meat or flesh in human form. Any kind of meats or smaller chunks of rock are ok in eldritch form. Cannot digest any other type of food and will immediately vomit it up if she does swallow something she cannot digest.
Sugar Poisoning- Above and beyond her usual dietary concerns, eating fruits or things with high sugar content specifically makes her physically ill with food poisoning symptoms from even small amounts. Undiluted sugar will even burn on contact like acid.
Ice Magic- Physical strikes from any magically created ice reduce the movement speed of whatever body parts they connect with by half for at least 30 seconds. (Ex. a dragons cold breath attack would affect them no different than anyone else but a spear of ice would slow down any body parts it made contact with)
Common Magical Items:
Nullification Bracelet: This nullification bracelet naturally disables all of a characters active abilities, and any outwardly projecting passive abilities (such as auras). This bracelet can be taken on and off at will.
Biography:
CW: mild body horror
Aura was born to a small pack of werewolves living in a small town in County Wicklow, Ireland. They were small-town folks that lived fairly unassuming lives except for secretly roaming the nearby woods in their werewolf forms on full moons or at night. Aura was the 6th child and the first girl born to her parents, which gave them inspiration to name her as the breath of fresh air that she was in a household of all boys. It was a happy life up until Aura was about 11. Her parents usually let the children run through the woods during the daytime when there was a full moon in the hopes they would be more manageable when everyone shifted for the night. This time though her brothers had left her alone to do something and no girls were allowed. So she went on her own without her parents knowing. Deep in the woods she stumbled upon an unusually shaped rock with holes all over it that seemed to have a glow from within..

Picking up the rock turned out to be a huge mistake as something slipped out of it lightning fast and struck her in her face. She felt a searing pain in her right eye and then blacked out. When she woke it was nearly dusk and she crawled her way back up to her unsteady feet, dizzy and with a terrible headache. She couldn't see out of her right eye and putting her hand up to it revealed a sort of wormy texture to something stuck to her face. She screamed as she struggled to find her way home. Her parents and siblings had been searching for her desperately finally found her as everything was getting dark. Both from the sun setting and from her starting to black out again. Their horrified looks were the last thing she saw of them before the full moon struck and she began to shift. As they all took werewolf shapes they hoped that whatever injury she had sustained would be cleared.

However once she shifted she just... didn't stop shifting. Her body cracked and broke as it split into a wild array of legs and tendrils and multiple heads. She was beyond control and felt nothing but pain and hunger. They tried to comfort her, they tried to restrain her, but none of it worked. In a haze she remembers bits and pieces of the night. It wasn't pretty and by dawn her family was gone. Devoured and burnt from what she could remember and from what little remains she found. Sobbing, she buried what little was left.

A family friend went to check the house after the family hadn't been seen for a few days. She found Aura alone in the house, still wearing her shredded dress and sobbing on the floor with a picture of her siblings and parents. When she went to comfort her she screamed because the girl had extra eyes and tendrils coming out of her face. In a panic Aura lashed out and sprouted more tendrils that she used to try to stop the woman from running away. She ended up accidentally killing the woman as she was calling emergency services and shouting about aliens. Aura fled back into the woods.

A few days later scouts arrived to investigate the suspicious disappearances, murder and claims of aliens. Aura was scared and wandering the woods hungry and alone. She fought against the scouts who found her but she was too weak to succeed.

Aura was brought to Manta Carlos but was deemed too dangerous to be on the island itself until she learned to control herself. Aura was constantly trying to break out and half the time her appendages seemed to go for strangling people as a reaction to any emotional distress at first. She spent 6 long years on the islets working on her self control even as her abilities grew in strength. Both in human form and in her eldritch form. Aside from full moons she was eventually able to show she could control herself. The time spent on the islets significantly calmed her down to the point she was probably a little more obedient to authority figures than she should have been.

She has transferred to the island, Academy and the dorms so that she might at least have the chance at a "normal" senior year of high school. Now on the island she has made some friends and is coming out of her shell a little. She still hides most of her "other" features but she has taken to going around with her face uncovered more recently.
Resources:
Lives in the dorms and receives the usual stipend for a student. Wages/tips from working as a waitress at Club Orpheus
Additional Information:
Only uses her bracelet when absolutely necessary
She's very prone to disturbing nightmares.
Speaks English and Irish languages
Dating Hella
Last edited: