Mar 30, 2018
2,611
Stars
Gender

Male
Pronouns

He/Him
Posting Status

Daily
Name:
Alexis Brouillard
Age:
17
Birthday:
January 7
Gender:
Male
Species:
Dragon (Mistcaller Wyvern)
Category:
Student
Class:
High School
Grade:
12th grade
(image is official art of Rin from Togainu no Chi)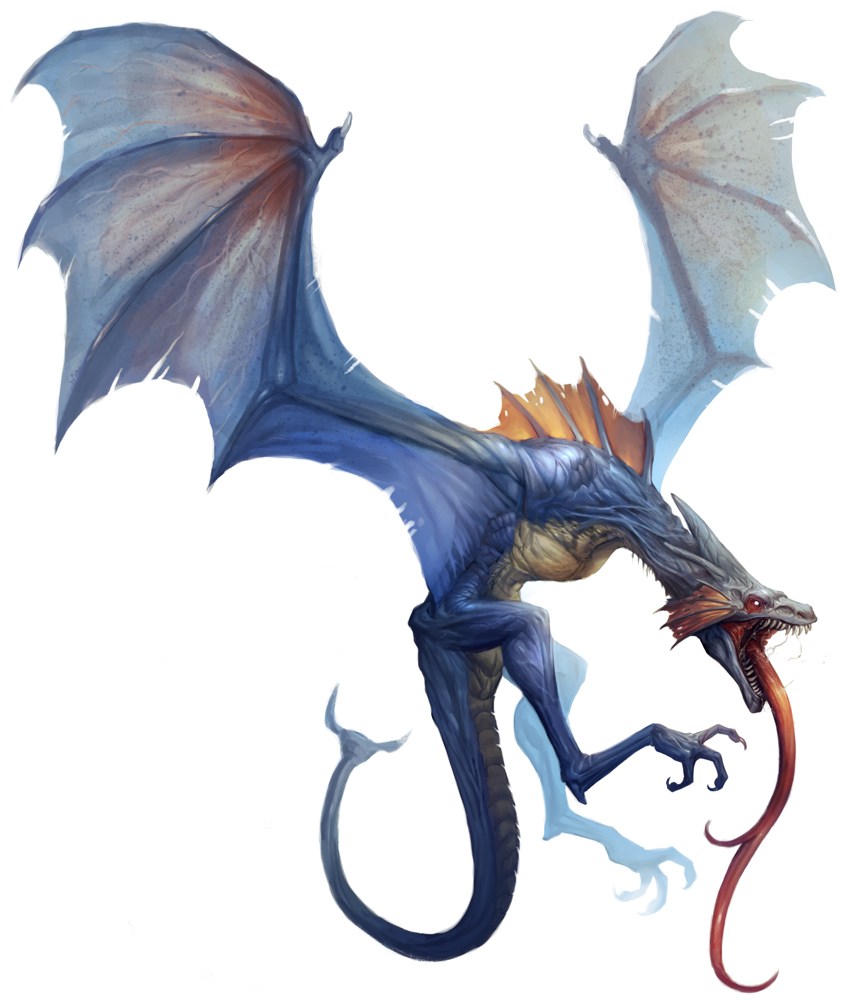 (image is official art of a Wyvern from Pathfinder)
Appearance Description:

Human form:
Green-blue eyes
Blonde hair kept to just below his ears
Wears lots of leather, buckles, occasionally some spikes
Prefers the colors red or orange and black
Likes to dress in punk fashion but usually ends up looking (unintentionally) more cute than dangerous
Wyvern form:
Smaller than a "normal" dragon for his age
Instead of scales, he has extremely tough leathery skin
Orange-red frills and fins on his head and back
Only two legs as his arms are fused with his wings
Dangerous claws on his feet and wings and two sharp barbs on his tail
A very long forked tongue and razor sharp teeth
Personality Description:
Hates being teased for having a "girl's name"
Likes to fight even when the odds are not on his side
Very protective of the things or people he cares about
Not very intelligent
Secretly one of the softest, emotionally, of his kin
Secretly likes getting beat up
Abilities:

Active:
Human/Wyvern Shape- They can shift between human and wyvern shapes at will. The wyvern shape has wings that allow it to fly
Mist Breath: Instead of having an elemental breath weapon, Mistcallers can breathe out heavy clouds of cool, misty water vapor to disguise their location or create traps for unsuspecting enemies. The mist heavily reduces visibility within a 20 square foot area when expelled in Wyvern form or 5' when in human form.
Water Caller- Once every 5 minutes Alexis can verbally call for the creation of up to 100 gallons of water that appears within 5 feet of him. Additionally he can manipulate any water or water vapor within 20' of him to move and shape it with his mind. He is limited to manipulating a total of 100 gallons of water at once or double that in wyvern form (the equivalent of his full mist breath of vapor in wyvern form).

This has also given Alexis the ability to move more quickly through water in both forms, swimming about twice as fast as a human can, and he can now breathe underwater in both forms.
Paralytic Sting: The tail barbs on this type of Wyvern secrete a paralytic neurotoxin when they pierce an enemy or prey. It does not make the target unconscious but it interrupts their nervous system's ability to send proper signals for up to 1 minute. The Wyvern can only produce enough of the toxin for two stings per day. After that the barbs can still be used as stabbing weapons but will not have enough venom to paralyze.
True Calm- By concentrating for a minute uninterrupted he can enter a state where he is unable to feel any emotions at all for up to 2 hours at a time. The ability takes twice as long as it was active to recharge. In or out of this state he is always immune to magical attempts to affect or manipulate his emotions.
Nails and Broken Glass: In both forms Alexis can create sharp irregularly-shaped shards of orange glass and/or steel nails (max 2" long in human form or 1' long in wyvern form for both materials) that extend out like spikes across part or all of his body. He can choose to "fire" them out like shrapnel but cannot aim it other than pointing whatever body part they are on in the general direction he wants them to fly. He is immune to damage from glass and steel as they just stick to his skin and reshape into his spikes, under his control.
Dust to Dust: Alexis can turn his body into a cloud of dust and then travel as that cloud of dust to a nearby open area before turning back. In human form his range is 30ft and in wyvern form his range is 50 ft. He is also able to breath clearly despite any dust or particulate matter (for example dust, dirt and smoke) in the air as he unconsciously pushes it out of his lungs.
Passive:
Decelerated Aging: This character lives ten times longer than a human, though they physically and mentally mature at the same rate as a human.
Supernatural Condition: This character has a great sense of smell along with durability and strength that greatly surpasses that of what a human could ever hope to achieve. In both forms they are extremely agile and quick. In their human forms, they can punch through brick walls or take a steel beam to the body without being put out. In their wyvern forms, they are even stronger with the ability to throw cars and they have tough hides that resist against bludgeoning and stabbing damage by three times the normal rate.
Healing Blood- Alexis' blood was permanently altered so that he always heals at an accelerated rate. Cuts and bruises heal within minutes, broken bones heal in hours and limbs are regrown in about a week.
Cold? Nah- While in wyvern form Alexis is immune to cold temperatures and freezing effects, whether they are mundane or magically caused. In human form this passive does not apply.
Weaknesses:
Electricity Weakness: As this creature tends to accumulate water vapor inside them they are weak to electricity. When struck by it, it deals twice the amount of damage. Weapons coated in this element also pierce through their defenses two times easier. Additionally they are more susceptible to the paralyzing effects of electricity.
Coastal Connection: This creature needs to live within easy travel range of the coast as they need to bathe for at least an hour every two days in a large body of water (A lake or larger, but oceans are preferable). Remaining away for longer results in the inability to produce mist and severe illness, eventually leading to death.
Gold Intolerance: While these wyverns love wealth as much as the next, their clan is cursed to be hurt by actual gold. A brief touch causes excruciating pain while more prolonged contact causes welts and eventual tissue damage. Wounds inflicted with gold edged or plated weapons take twice as long to heal.
Clumsy Walking: While these wyverns are smaller than dragons, making it possible to fit inside some buildings, they must use the claws on their wings to help walk as they are unable to walk around in an upright position.
Resources:
Alexis is living in a dorm and receives the normal allowance from the school. He has plenty of family back home but they have cut him off and left him to his own devices for now until he can prove he is strong enough.
Biography:
The Brouillard Clan has been mostly living in and around Newfoundland, Canada since they left France in the 1500's. They are vicious and accomplished pack hunters. They are very much like a close-knit outlaw biker gang and that's the way they like it. Occasionally they will raid fishing vessels and even mainland Canadian and American towns in the north east, though most of their food is drawn from the sea. Favorites include whale and seal. The Brouillards have no problem hunting humans, though they try to limit their exposure and it is usually very difficult to prove their involvement. Ships disappear in the mists all the time right?
The Brouillards also deal in the drug trade and other illicit activities, making the "biker gang" description even more apt. Their rough nature and "uncivilized" appearance has earned the disdain of most major clans of dragons who know about them. In return the Brouillards teach their young that other dragon clans are elitist and conceited and will always look down on them.
Alexis was treated like all of the Brouillard hatchlings. That is to say he was loved and nurtured but his life was full of hazing and fighting to make him stronger. He was a capable fighter with the pack but his kin noticed he was having trouble being as vicious as the others when he wasn't accompanied by them. He would hesitate when told to kill humans and in human form he was starting to become too friendly with his human classmates.
The decision was made to send Alexis to Manta Carlos for two reasons. One it would keep him from accidentally revealing the clan's existence to the humans back home and two it would probably help to toughen him up a little. After all there were many dragons living on Manta Carlos from what the elders had heard. Brouillards travel and hunt in packs but if Alexis wants to go home he has to prove himself by surviving without his clan for a while.
Since arriving on Manta Carlos Alexis was in less and less contact with his family for quite a while. He has recently learned that he has been effectively disowned by his parents. His cousin remained in contact until she was caught. She is now living in the dorms with Alexis.
Additional Info:
His cousin
Riva
is also on the island now
Last edited: